Sign-Up Online:
You must sign-up online prior to attending the NBJG Swim Test! Sign-ups for the swim test will begin in January.
All NBJG participants are required to pass the NBJG Swim Test each year in order to qualify for program participation.
---
2018 Swim Test Dates:
Sunday, March 4, 2018
Saturday, March 10, 2018
Sunday, March 18, 2018
9:00 a.m. to 1:00 p.m. each day list above.
Location:
TBD
---
2018 Swim Requirements:
1. Must swim 100 yards (4 lengths of a 25 yard pool) in the times listed below. You may try a maximum of 5 times in the course of the 3 tryout days.
Born On/Between
Division

Time

July 1, 2008 to

June 30, 2009

D
(9)

1:55

July 1, 2006 to

June 30, 2008

C
(10 & 11)

1:45

July 1, 2004 to

June 30, 2006

B
(12 & 13)

1:40

July 1, 2002 to

June 30, 2004

A
(14 & 15)

1:35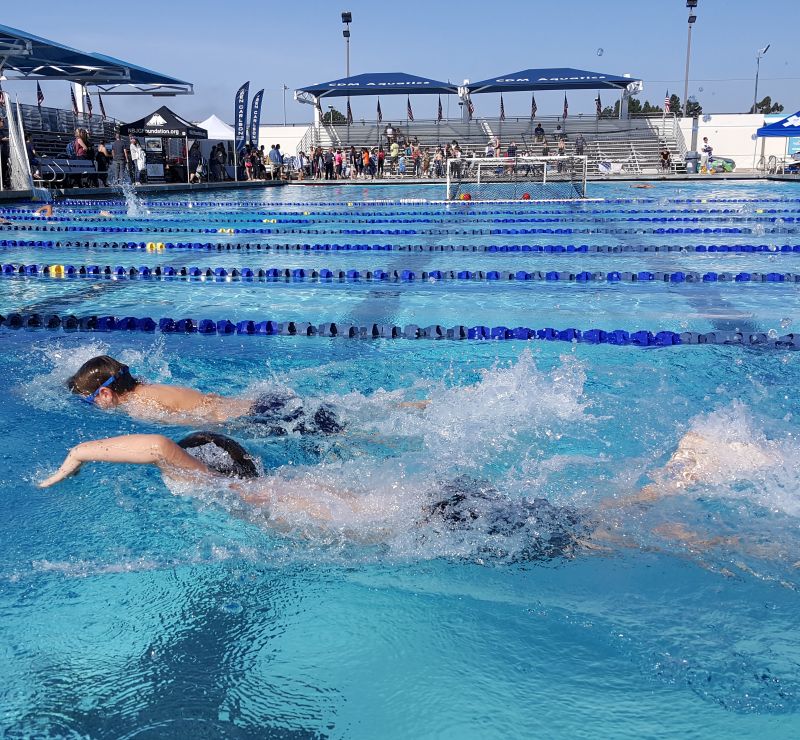 2. Must tread water for 3 minutes without touching the sides of the pool.
What to Bring:
1. All Participants:
Should wear goggles, a swim cap, and a fitted, race-style swimsuit. (Loose boardshorts and ruffly/frilly swimsuits cause drag in the water and will slow your swimmer down.)

Must bring a printed and signed waiver before they are allowed in the pool. (The waiver is found on the "waiver" tab of your child's account.)

Must have a legal parent/guardian present with your child(ren) at the swim test.
2. New JGs:
Must bring original birth certificate or passport for age verification. The document will be returned immediately at check-in. (Photocopies/photos of these documents are NOT accepted.)
3. Newport Residents:
If your child did not participate in the JG Program in 2017, you must provide proof of residency in order to register during the "New Newport Beach Resident" registration window.
Acceptable proof of residency includes*:
Column 1

AND

Column 2

A

GOVERNMENT-ISSUED PHOTO ID

of the registering parent/guardian

2 of the following

**

:

Mortgage or Lease Contract

Property Tax Bill

Utility Bill

Bank Statement or Check

Vehicle Registration

*The name listed on the 3 forms of proof-of-residency must also match the name of the parent/guardian on the Swim Waiver.

**If your government-issued photo ID from column 1 has your current address, you only need 1 proof-of-residency item from column 2.