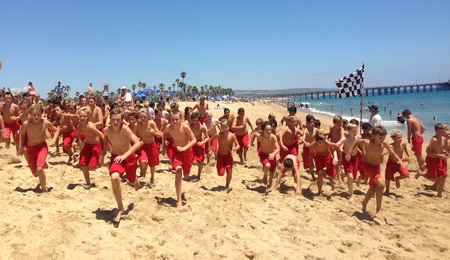 *You must receive permission from your Instructor in order to compete in this event.*
We are honored to conduct an Ironman Competition in memory of Gray Lunde, a former Junior Lifeguard. This event was his favorite event in Junior Lifeguards. He competed in it for the first time when he was only 8 years old (before he was a JG). Gray always looked forward to competing and we invite you to join us as well. The Ironman is a very physically demanding event and is not required.
EVENT REGISTRATION:
All participants need to pre-register by Wednesday, August 9. In order to participate, you must complete BOTH the entry forms listed below.
Entry Form (Submit Online) - Due August 9 - Complete Online Now
Waiver (Submit to Instructor) - Due August 9 - Download Now
WHEN: Saturday, August 12, 2017
- Check-in is at 8:00 a.m. at the tables at Tower 74.
- Competition begins at 8:30 a.m.
The event lasts approximately two hours.
WHERE: The event begins at the River Jetty at Tower 74 and ends at JGHQ.
Parents should drop off their Junior Lifeguards at the River Jetty (Tower 74) at 8:00 a.m. for roll call with only what they need in order to participate in the event.
Parents should pick up their Junior Lifeguards at 11:00 a.m. from JG Headquarters.
EVENT DESCRIPTION:
Participants will run to the Newport Pier (2.2miles), swim around Buddy's Buoy twice (400m), run to the Balboa Pier (1.7 miles), swim around Reenie's Buoy twice (400m), run to "G" Street, and back to the finish at the Balboa Pier for recognition.
Please remember that this event is very long and anyone interested must have prior permission from his or her Junior Lifeguard Instructor.