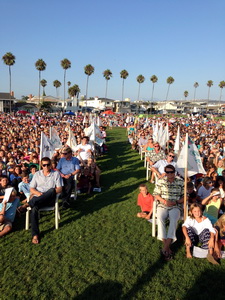 Last Day of Junior Guards!
Thursday, August 10 is our final day of the 2017 Junior Lifeguard Program.
Graduation Day - Junior Guard Session Times
Junior Guards will have the following adjusted schedule this day:
Morning Session: 10:00 a.m. to Noon
Afternoon Session: 1:00 p.m. to 3:00 p.m.
Graduation Evening
On the evening of Thursday, August 10 we will recognize all of our Junior Lifeguards at our Annual Graduation Ceremony. Junior Lifeguard Instructors will recognize special Junior Lifeguards with awards! Additionally, all Junior Guards will be presented with a graduation certificate.
We hope Junior Lifeguards will invite the entire family to come and celebrate the completion of another amazing Junior Lifeguard summer.
The ceremony will take place at 5:30 p.m. at Junior Lifeguard Headquarters and last about two hours. Junior Lifeguards should meet at the trailer and will sit with their groups during the ceremony. Get there early for good parking and seats. Please feel free to bring a picnic with beach chairs or towels to sit on.
We will not be distributing a program DVD this year. Instead we will be sending out a link to the JG Program video about a week after the program ends.